TASTING GREECE
Explore the Greek/Mediterranean culture and delicious lifestyle and own 68 of the most authentic Greek recipes passed down the generations from my Greek yaya. ( short educational articles included)
Available now in my new book Tasting Greece. From our home to yours with one click -
http://amzn.to/2h3tmx5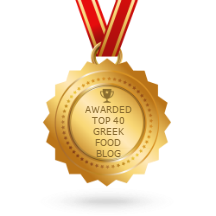 Inspired Mediterranean foods. Single origin Extra Virgin Olive Oil and spice blends.
MyGreekitchen
Greek Mediterranean Cuisine and much more..
Latest posts
CRETAN DAKOS CHICKEN SALAD Dakos is a Cretan meze, consisting of a slice of soaked barley rusk topped with chopped tomatoes , olives and crumbled feta ...

MEDITERRANEAN CHICKEN SALAD Loaded Mediterranean Chicken Salad is another meal in a salad! Full of Greek flavours , healthy, delicious and a 5-ingredient dressing that doubles ...

MOCHA MOUSSE ICE CREAM This Mocha Mousse Ice Cream is super smooth and delicious ' with only 3 ingredients!! Ingredients *1/4 cup hot water *2 tablespoons instant coffee granules *1 ...
Calendar