TASTING GREECE
Explore the Greek/Mediterranean culture and delicious lifestyle and own 68 of the most authentic Greek recipes passed down the generations from my Greek yaya. ( short educational articles included)
Available now in my new book Tasting Greece. From our home to yours with one click -
http://amzn.to/2h3tmx5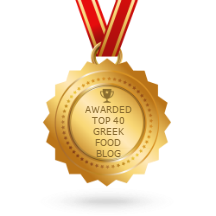 Inspired Mediterranean foods. Single origin Extra Virgin Olive Oil and spice blends.
MyGreekitchen
Greek Mediterranean Cuisine and much more..
Latest posts
TROUFAKIA - GREEK CHOCOLATE WALNUT TRUFFLES Christmas is just around the corner, so get into the spirit by making these decadent truffles which make beautiful gifts. Ingredients: *1 ...

MINI SAUSAGE PUFFS A great recipe to make with the kids. Sausages are rolled in a mustard seasoned puff pastry and baked to perfection. They are ...

GREEK BAKLAVA WITH HOMEMADE PHYLLO Baklava is one of all time favorite desserts.  Make the perfect homemade Baklava the traditional Greek way! Ingredients: For the dough: *8 cups all purpose flour , plus ...
Calendar