CLEAN MONDAY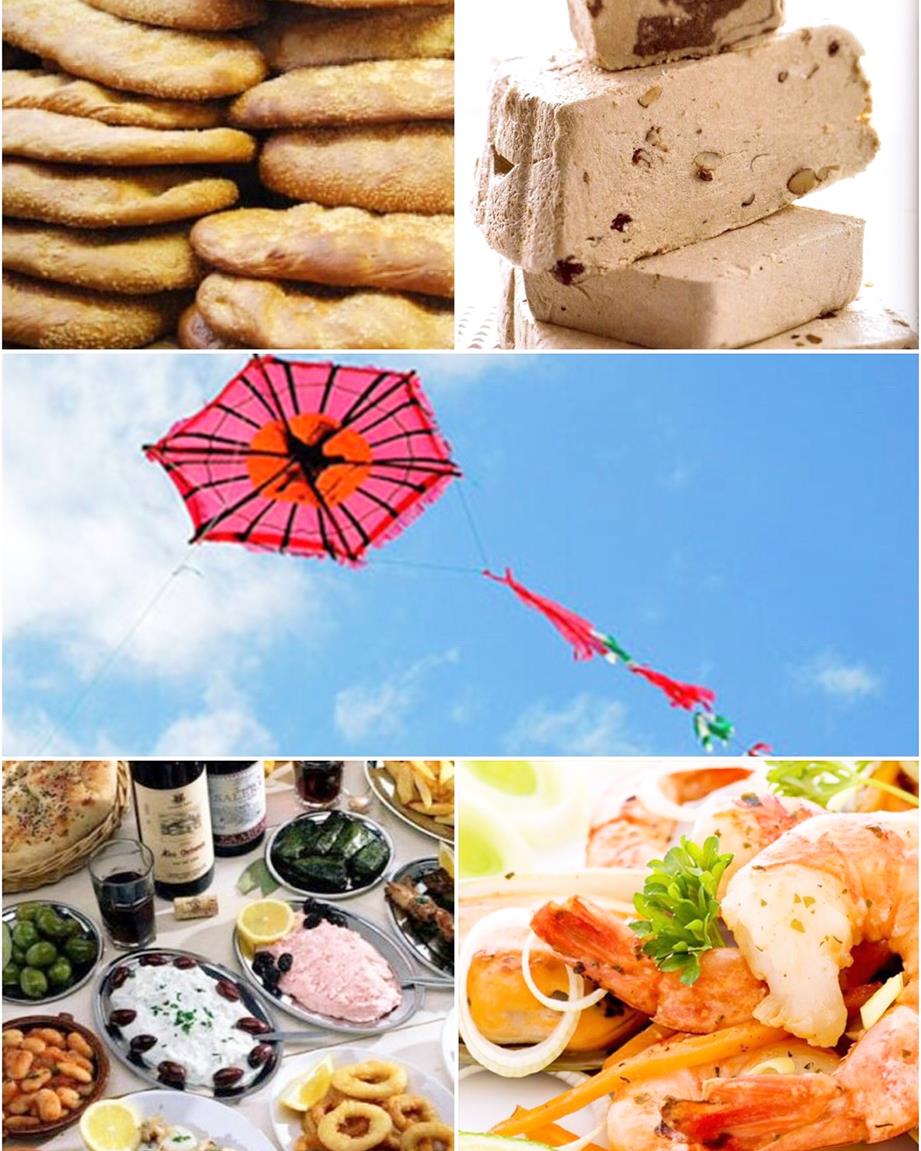 Clean Monday
Kathari Deftera," Greek for Clean Monday, is considered to be one of the most important feasts all over Greece, each year commencing the 40-day period of the Great Lent for the Eastern Greek Orthodox Church, which is called "Sarakosti." The feast begins on the first day of the 7th week before the Orthodox Easter Sunday.
Clean Monday is a public holiday in Greece and Cyprus, where it is celebrated with outdoor excursions, the consumption of shellfish and other fasting food, a special kind of azymebread, baked only on that day, named Lagana  and the widespread custom of flying kites.
Eating meat, eggs and dairy products is traditionally forbidden to Orthodox Christians throughout Lent, with fish being eaten only on major feast days, but shellfish is permitted in European denominations.
This has created the tradition of eating elaborate dishes based on seafood (shellfish, molluscs, fish roe etc.).
Clean Monday, however, is not only associated with eating fasting products, but features also many traditions being held all over Greece. Traditionally, as Clean Monday is considered to mark the beginning of the spring season.
Apart from kite flying, many areas in Greece maintain their own regional customs. In Thebes, an old custom dating from 1830, called the "Vlach Wedding," — in reference to the matchmaking of the time — is revived each year, with all participants joining the festivities with satirical songs and lots of dancing.
Meanwhile, in the village Mesta on the Greek island of Chios, according to another Clean Monday custom, which bears its roots from the period of Ottoman Greece, the village is invaded by an Ottoman military officer along with his troops, who after gathering all residents to the central square, makes them pay a fine for the charges brought against them. The collected money is then given as tribute to the cultural association of the village.
The feast of Clean Monday and all associated traditions and celebrations are in the hearts of the Greek people, as they provide an opportunity for leisure and escaping from the daily routine, while coming in contact with nature and the country's cultural heritage.