You can send me a quick message by filling out this form
TASTING GREECE
Explore the Greek/Mediterranean culture and delicious lifestyle and own 68 of the most authentic Greek recipes passed down the generations from my Greek yaya. ( short educational articles included)
Available now in my new book Tasting Greece. From our home to yours with one click -
http://amzn.to/2h3tmx5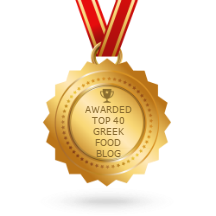 Inspired Mediterranean foods. Single origin Extra Virgin Olive Oil and spice blends.
MyGreekitchen
Greek Mediterranean Cuisine and much more..
Latest posts
KOLOKYTHAKIA GEMISTA Greek Stuffed Zucchini  Ingredients : *6-8 zucchini, ends trimmed Filling: *1/2 cup basmati rice *400 g ground beef *¼ cup fresh mint, chopped *1 cup fresh parsley, chopped *¼ cup fresh dill, ...

SARAGLI / ROLLED BAKLAVA  This Mouthwatering saragli is a different version of Baklava.  It's crunchy, syrupy with pistachio, almond & walnut filling. A MUST TRY! Ingredients: For saragli *400 ...

THREE CHEESE PIZZA Pizza night is made easy with this flavorful three cheese pizza.  Ditch the delivery and make this tasty cheese pizza homemade — it's ...
Instagram Photos
Instagram has returned invalid data.
Calendar
November 2018
M
T
W
T
F
S
S
« Oct
1
2
3
4
5
6
7
8
9
10
11
12
13
14
15
16
17
18
19
20
21
22
23
24
25
26
27
28
29
30