You can send me a quick message by filling out this form
TASTING GREECE
Explore the Greek/Mediterranean culture and delicious lifestyle and own 68 of the most authentic Greek recipes passed down the generations from my Greek yaya. ( short educational articles included)
Available now in my new book Tasting Greece. From our home to yours with one click -
http://amzn.to/2h3tmx5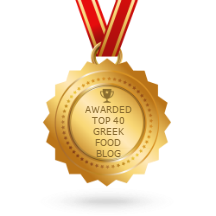 Inspired Mediterranean foods. Single origin Extra Virgin Olive Oil and spice blends.
MyGreekitchen
Greek Mediterranean Cuisine and much more..
Latest posts
33 THINGS TO EAT WHEN YOU HAVE NO FOOD AT HOME Accidentally delicious meals made out of total desperation. When you're hungry, it's basically death to stare ...

10 HEALTHY TWO-INGREDIENT AVOCADO RECIPES From the editors of Cosmopolitan.com, make dessert, smoothies, milkshakes, and more in five minutes flat. The world's most perfect berry — yes, ...

TOP 20  MEDITERRANEAN RECIPES Mediterranean cuisine is an adventurous journey into the cradle of civilization and the land of the Gods of Olympus. The Mediterranean cuisine ...