You can send me a quick message by filling out this form
TASTING GREECE
Explore the Greek/Mediterranean culture and delicious lifestyle and own 68 of the most authentic Greek recipes passed down the generations from my Greek yaya. ( short educational articles included)
Available now in my new book Tasting Greece. From our home to yours with one click -
http://amzn.to/2h3tmx5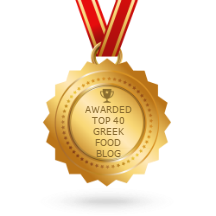 Inspired Mediterranean foods. Single origin Extra Virgin Olive Oil and spice blends.
MyGreekitchen
Greek Mediterranean Cuisine and much more..
Latest posts
WORLDS MOST ANCIENT OLIVE TREE The Olive tree of Vouves is an olive tree in the village of Ano Vouves in the municipal unit of Kolymvari ...

HOW TO COOK THE PERFECT STEAK How would you like your steak?" Unless we're gourmets, having to cook steaks to order for family and friends can ...

MIXED GREENS & TOMATO SALAD WITH FETA VINAIGRETTE Enjoy creamy feta cheese vinaigrette and lightly sweet cherry tomatoes balanced by tender spring mix, crunchy greens. Color variety, ...