TASTING GREECE
Explore the Greek/Mediterranean culture and delicious lifestyle and own 68 of the most authentic Greek recipes passed down the generations from my Greek yaya. ( short educational articles included)
Available now in my new book Tasting Greece. From our home to yours with one click -
http://amzn.to/2h3tmx5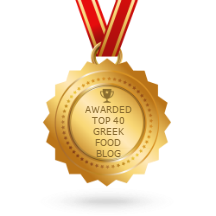 Inspired Mediterranean foods. Single origin Extra Virgin Olive Oil and spice blends.
MyGreekitchen
Greek Mediterranean Cuisine and much more..
Latest posts
SPINACH AND MUSHROOM PIZZA In our home we never say no to a pizza. This spinach and mushroom pizza recipe is a hearty and delicious one ...

SALMON WITH LEMON & OREGANO This Lemon - Oregano Salmon recipe is an ultra-easy and a flavoutful dinner to make during your busy weeknights. It's ready ...

GREEK MOSHARI ME FASOLAKIA. BEEF WITH GREEN BEANS Fasolakia is one of the most popular, comforting and delicious Greek dish , it's easy to make and ...