TASTING GREECE
Explore the Greek/Mediterranean culture and delicious lifestyle and own 68 of the most authentic Greek recipes passed down the generations from my Greek yaya. ( short educational articles included)
Available now in my new book Tasting Greece. From our home to yours with one click -
http://amzn.to/2h3tmx5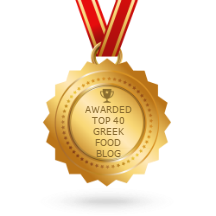 Inspired Mediterranean foods. Single origin Extra Virgin Olive Oil and spice blends.
MyGreekitchen
Greek Mediterranean Cuisine and much more..
Latest posts
TRADITIONAL GREEK FAVA - YELLOW SPLIT PEA DIP A delicious creamy and super tasty recipe you can serve as a dip or a side dish, perfect ...

DIY BAILEYS HOT CHOCOLATE GIFT SET Try this DIY Baileys Hot Chocolate Gift Recipe. It is full of hot cocoa, chocolate chips, marshmallows and some baileys ...

GREEK KASEROPITA THREE CHEESES PIE A delicious traditional Greek recipe, the perfect treat for any time of the day! For this Greek  cheeses pie recipe the feta ...