TASTING GREECE
Explore the Greek/Mediterranean culture and delicious lifestyle and own 68 of the most authentic Greek recipes passed down the generations from my Greek yaya. ( short educational articles included)
Available now in my new book Tasting Greece. From our home to yours with one click -
http://amzn.to/2h3tmx5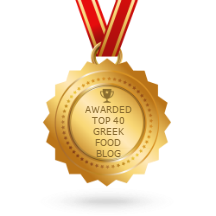 Inspired Mediterranean foods. Single origin Extra Virgin Olive Oil and spice blends.
MyGreekitchen
Greek Mediterranean Cuisine and much more..
Latest posts
HOMEMADE HUMMUS getty images. This creamy, smooth hummus is wonderful snack or appetizer. Serve with warm pita bread or veggies. Once you make this simple recipe, you'll never ...

STEAK SALAD WITH SPINACH & ARUGULA This delicious salad is packed with fresh spinach, arugula and cheese, topped with seared steak, and drizzled with a balsamic ...

SARAKOSTI / GREEK LENTEN CALENDAR In Greece we call this 40 day lenten period Sarakosti which is exactly what the word means in Greek – 40 ...