TASTING GREECE
Explore the Greek/Mediterranean culture and delicious lifestyle and own 68 of the most authentic Greek recipes passed down the generations from my Greek yaya. ( short educational articles included)
Available now in my new book Tasting Greece. From our home to yours with one click -
http://amzn.to/2h3tmx5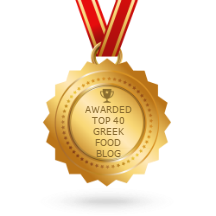 Inspired Mediterranean foods. Single origin Extra Virgin Olive Oil and spice blends.
MyGreekitchen
Greek Mediterranean Cuisine and much more..
Latest posts
CAMPFIRE RECIPES Camping can be such a fun time for the entire family, not to mention the food can be amazing, so we gathered up the best ...

GREEK YOGURT OREO ICE CREAM Ingredients: *500 g Heavy cream  , cold *500 g Greek yogurt *3 tbsp Honey *1 tbsp Vanilla extract *1 cup Oreo cookies , cut into pieces Directions: In your stand mixer with ...

GORGEOUS  FOOD + DRINK STATION IDEAS Looking for  food + drink stations you could use for your wedding, party , birthday party, dinner or event? You ...