TASTING GREECE
Explore the Greek/Mediterranean culture and delicious lifestyle and own 68 of the most authentic Greek recipes passed down the generations from my Greek yaya. ( short educational articles included)
Available now in my new book Tasting Greece. From our home to yours with one click -
http://amzn.to/2h3tmx5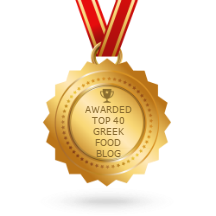 Inspired Mediterranean foods. Single origin Extra Virgin Olive Oil and spice blends.
MyGreekitchen
Greek Mediterranean Cuisine and much more..
Latest posts
HOMEMADE SHEET PAN PIZZA This recipe is a hearty, zesty main dish with a crisp, golden crust. Use whatever toppings your family enjoys. Pizza made in a sheet ...

AUTHENTIC GREEK GYRO Gyros is a classic Greek sandwich. Learn how to make one of the world's great sandwiches at home. A recipe for Authentic Greek Gyros ...

RIZOGALO GREEK RICE PUDDING Rizogalo is a creamy rice pudding with a sprinkling of cinnamon on top. The perfect dessert for any occasion, it's served cold ...