TASTING GREECE
Explore the Greek/Mediterranean culture and delicious lifestyle and own 68 of the most authentic Greek recipes passed down the generations from my Greek yaya. ( short educational articles included)
Available now in my new book Tasting Greece. From our home to yours with one click -
http://amzn.to/2h3tmx5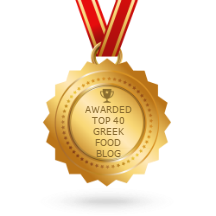 Inspired Mediterranean foods. Single origin Extra Virgin Olive Oil and spice blends.
MyGreekitchen
Greek Mediterranean Cuisine and much more..
Latest posts
BEEF STIR - FRY WITH VEGETABLES Busy days call for easy weeknight meals.  Juicy cubes of beef sirloin are quickly stir-fried with colorful vegetables and soy ...

SPINACH AND MUSHROOM PIZZA In our home we never say no to a pizza. This spinach and mushroom pizza recipe is a hearty and delicious one ...

SALMON WITH LEMON & OREGANO This Lemon - Oregano Salmon recipe is an ultra-easy and a flavoutful dinner to make during your busy weeknights. It's ready ...