TASTING GREECE
Explore the Greek/Mediterranean culture and delicious lifestyle and own 68 of the most authentic Greek recipes passed down the generations from my Greek yaya. ( short educational articles included)
Available now in my new book Tasting Greece. From our home to yours with one click -
http://amzn.to/2h3tmx5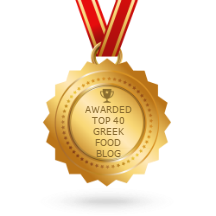 Inspired Mediterranean foods. Single origin Extra Virgin Olive Oil and spice blends.
MyGreekitchen
Greek Mediterranean Cuisine and much more..
Latest posts
CHICKEN SALAD WITH OLIVE OIL DRESSING A scrumptious, healthy salad that's satisfying enough to have as a meal. The star of this is the Olive Oil dressing - ...

PASTITSADA CORFU CHICKEN & PASTA Pastitsada is a traditional recipe from Corfu,  where it is a traditional Sunday dinner, it is sometimes called pastitsada Korfiatiki. A casserole dish, one ...

TYROPITA - GREEK CHEESE PIE Looking for a traditional Greek Tiropita recipe? This delicious Greek cheese pie filled with a rich feta filling, wrapped in golden-brown ...