TASTING GREECE
Explore the Greek/Mediterranean culture and delicious lifestyle and own 68 of the most authentic Greek recipes passed down the generations from my Greek yaya. ( short educational articles included)
Available now in my new book Tasting Greece. From our home to yours with one click -
http://amzn.to/2h3tmx5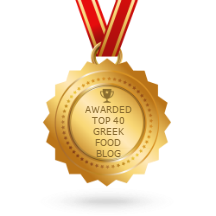 Inspired Mediterranean foods. Single origin Extra Virgin Olive Oil and spice blends.
MyGreekitchen
Greek Mediterranean Cuisine and much more..
Latest posts
VISIT GREECE A land filled with sun-drenched coastlines and islands surrounded by ancient myths, Greece provides fun, mystery and adventure. From the best beaches to soak up ...

GREEK CHICKEN SOUVLAKI Souvlaki is a popular Greek fast food consisting of small pieces of meat and sometimes vegetables grilled on a skewer. It is usually ...

RASPBERRY ICE CREAM Make your own raspberry ice cream with only 3 ingredients!!!! Ingredients *2 cup Heavy Whipping Cream *1 can (14 oz ) Sweetened Condensed Milk *2 cups Fresh ...