TASTING GREECE
Explore the Greek/Mediterranean culture and delicious lifestyle and own 68 of the most authentic Greek recipes passed down the generations from my Greek yaya. ( short educational articles included)
Available now in my new book Tasting Greece. From our home to yours with one click -
http://amzn.to/2h3tmx5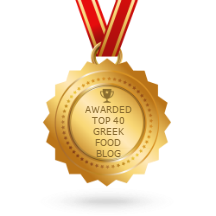 Inspired Mediterranean foods. Single origin Extra Virgin Olive Oil and spice blends.
MyGreekitchen
Greek Mediterranean Cuisine and much more..
Latest posts
PUMPKIN CARROT SOUP Whip up this easy pumpkin soup as a starter for a dinner party or a light supper when you need a bit of ...

ORANGE POUND CAKE Fragrant, moist, and tender Orange Pound Cake flavored with freshly squeezed orange juice and orange zest. Perfect for snack time or tea time. Ingredients: *1¾ ...

CHRISTOPSOMO - CHRIST S BREAD Christmas Bread Christopsomo which translates as "Christ's bread", is a Greek bread decorated with an early form of the Christian cross ...
Calendar