TASTING GREECE
Explore the Greek/Mediterranean culture and delicious lifestyle and own 68 of the most authentic Greek recipes passed down the generations from my Greek yaya. ( short educational articles included)
Available now in my new book Tasting Greece. From our home to yours with one click -
http://amzn.to/2h3tmx5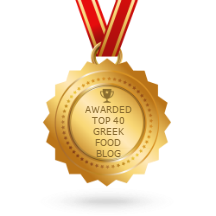 Inspired Mediterranean foods. Single origin Extra Virgin Olive Oil and spice blends.
MyGreekitchen
Greek Mediterranean Cuisine and much more..
Latest posts
LEMONATES PATATES / GREEK LEMON POTATOES  Lemon potatoes are a common side to many Greek dishes.  Crispy on the outside, tender and soft on the inside, with ...

Vasilopita getty images. Vasilopita as Greek tradition dictates, is cut by families on New Year's Day to bless the house and bring good luck for the new year. ...

ROASTED SALMON WITH POTATOES CARROTS & BROCCOLI  Just a few ingredients make this quick and tasty recipe perfect dinner idea for a busy weeknight. Ingredients: *4 salmon fillets  *1 ...
Instagram Photos
Instagram has returned invalid data.
Calendar
March 2019
M
T
W
T
F
S
S
« Jan
1
2
3
4
5
6
7
8
9
10
11
12
13
14
15
16
17
18
19
20
21
22
23
24
25
26
27
28
29
30
31