TASTING GREECE
Explore the Greek/Mediterranean culture and delicious lifestyle and own 68 of the most authentic Greek recipes passed down the generations from my Greek yaya. ( short educational articles included)
Available now in my new book Tasting Greece. From our home to yours with one click -
http://amzn.to/2h3tmx5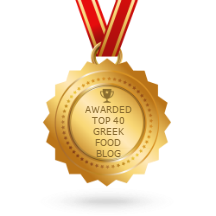 Inspired Mediterranean foods. Single origin Extra Virgin Olive Oil and spice blends.
MyGreekitchen
Greek Mediterranean Cuisine and much more..
Latest posts
ONE BOWL CHOCOLATE CHIP BANANA BREAD This super moist and deliciously sweet banana bread is perfect for breakfast or snack. Ingredients: *3 ripe bananas *1/3 cup melted butter *1/2 cup ...

BBQ CHICKEN PIZZA Pizza night is made easy with this flavorful chicken and cheese pizza.  Ditch the delivery and make this tasty BBQ chicken pizza homemade ...

PEYNIRLI / CHEESY BOATS The name derives from the Turkish word peynirli, meaning 'with cheese'. The best-known places to eat the Best peynirli  in Greece are ...
Instagram Photos
Instagram has returned invalid data.