TASTING GREECE
Explore the Greek/Mediterranean culture and delicious lifestyle and own 68 of the most authentic Greek recipes passed down the generations from my Greek yaya. ( short educational articles included)
Available now in my new book Tasting Greece. From our home to yours with one click -
http://amzn.to/2h3tmx5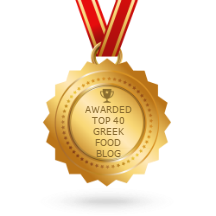 Inspired Mediterranean foods. Single origin Extra Virgin Olive Oil and spice blends.
MyGreekitchen
Greek Mediterranean Cuisine and much more..
Latest posts
COCONUT RAVANI Fluffy, moist, and extra syrupy! A mouthwatering traditional Greek dessert with rich flavor and amazing smell! Ingredients: For the Ravani *1 cup semolina *1 cup self raising flour *1 cup sugar *1/2 ...

GREEK OCTOPUS IN TOMATO SAUCE WITH PASTA Greek Octopus with pasta is a delicious Greek traditional dish, easy and low-fat, full of flavor! Ingredients: *1 fresh or frozen ...

BAKED SALMON WITH VEGETABLES This baked salmon is incredibly flavorful, juicy and flaky. An all-star favorite salmon recipe! Oven baked salmon is an easy dinner idea. Ingredients: *6 ...
Instagram Photos
Instagram has returned invalid data.