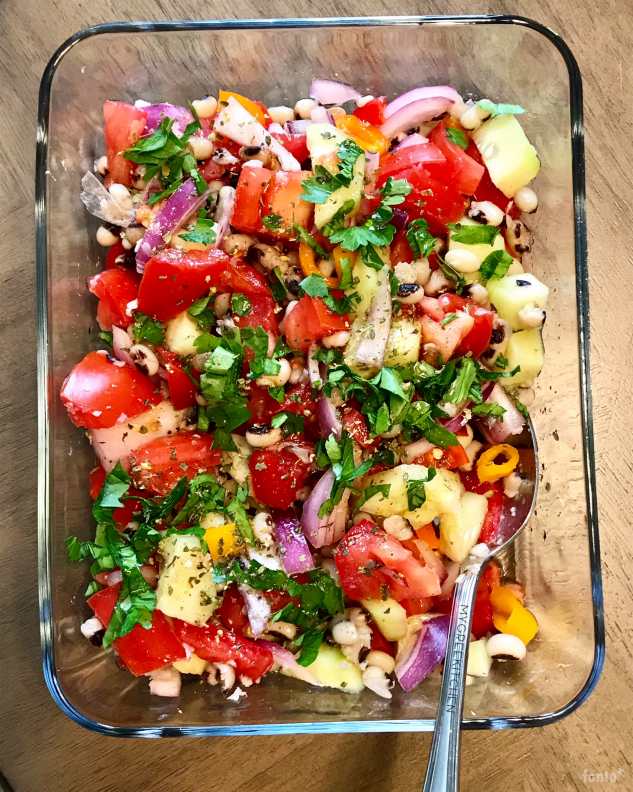 BLACK EYE PEAS SALAD
Colorful, delicious and healthy! This salad is perfect for any occasion!

Ingredients:
For the salad:
*2 cups black eyed peas, cooked
*3 Roma tomatoes, diced
*1 cucumber, diced
*1 onion, sliced
*2 bell peppers,diced
*1 cup crumbled Goat cheese
*2 tbsp fresh parsley, chopped
For dressing:
*1/2 cup Olive oil
*grated zest and juice from 1 lemon
*1 tsp Oregano
*salt
*pepper


Directions:
In a small bowl, add the olive oil, lemon zest, lemon juice, oregano, salt and pepper. Mix and allow the oil to pick up all of the aromas.
In a large salad bowl add the black eye peas. Add the diced tomatoes, cucumber, onion, peppers and top with crumbled cheese.
Coarsely chop the fresh parsley leaves (without the stems). Add to bowl and toss.
Drizzle with the dressing and serve.