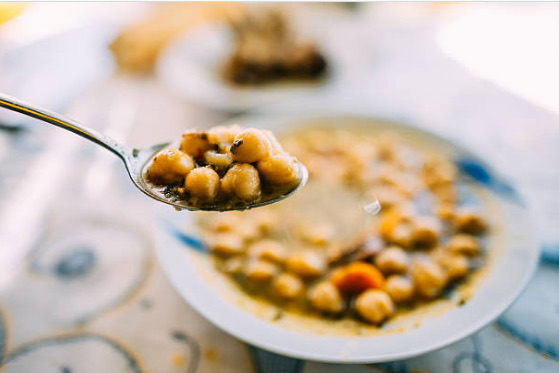 GREEK REVITHIA SOUP / CHICKPEA STEW
Hearty, simple and extra comforting, this Greek chickpea soup recipe is with no doubt the perfect dish for a cold winter's day.
This rustic chickpea stew is a wonderful vegetarian selection that is perfect with a simple salad and plenty of crusty bread.
Ingredients:
*500 g chickpeas
*1 large onion, diced
*1/2 cup Olive oil
*2 bay leafs
*1 1/2 tsp oregano
*water
*1 tsp. salt (or to taste)
*1/4 tsp. black pepper (or to taste)
*2 carrots, sliced *( optional )
*2 tbsp flour + juice of 1 lemon
Directions:
Wash the chickpeas and let them soak in plenty of cold water.
Next day, drain and rinse chickpeas under cold water.
Place the chickpeas in a large pan with cover with cold water. Turn the heat up and bring to the boil. Keep removing the froth from the top with a wooden spoon for about 15 minutes.
Drain the chickpeas and then put them back in the pan and add enough warm water to cover them again. Bring to the boil and add the carrots, olive oil, chopped onion, oregano and bay leafs.
Turn the heat down to a simmer and place the lid on. Cook for 1-2 hours, depending on the chickpeas, until tender. Add more water if necessary in order not to dry.
If you prefer your soup to be thicker, during the end of cooking time add in a bowl the flour and lemon juice and pour gradually 1-2 ladles of the soup and whisk. Add the mixture slowly in the pan with the chickpeas and season. Stir gently for 2-3 minutes until the soup thickens.
Serve revithia with a simple salad and some crusty bread.