TASTING GREECE
Explore the Greek/Mediterranean culture and delicious lifestyle and own 68 of the most authentic Greek recipes passed down the generations from my Greek yaya. ( short educational articles included)
Available now in my new book Tasting Greece. From our home to yours with one click -
http://amzn.to/2h3tmx5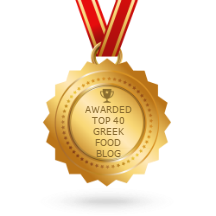 MyGreekitchen
Greek Mediterranean Cuisine and much more..
Latest posts
GREEK MINI SPANAKOPITA TRIANGLES These little treats are perfect for every time of the day as delicious starter, mid-day snack or light dinner!  Spanakopita Triangles are a ...

Laconian orange pie If you're looking for a delicious, super easy and extremely aromatic Greek dessert, look no further . This Portokalopita will amaze you !! Ingredients: 2 ...

LEMONATES PATATES / GREEK LEMON POTATOES  Lemon potatoes are a common side to many Greek dishes.  Crispy on the outside, tender and soft on the inside, with ...
Instagram Photos
Instagram has returned invalid data.
Calendar
October 2020
M
T
W
T
F
S
S
1
2
3
4
5
6
7
8
9
10
11
12
13
14
15
16
17
18
19
20
21
22
23
24
25
26
27
28
29
30
31