APPLE CINNAMON BREAD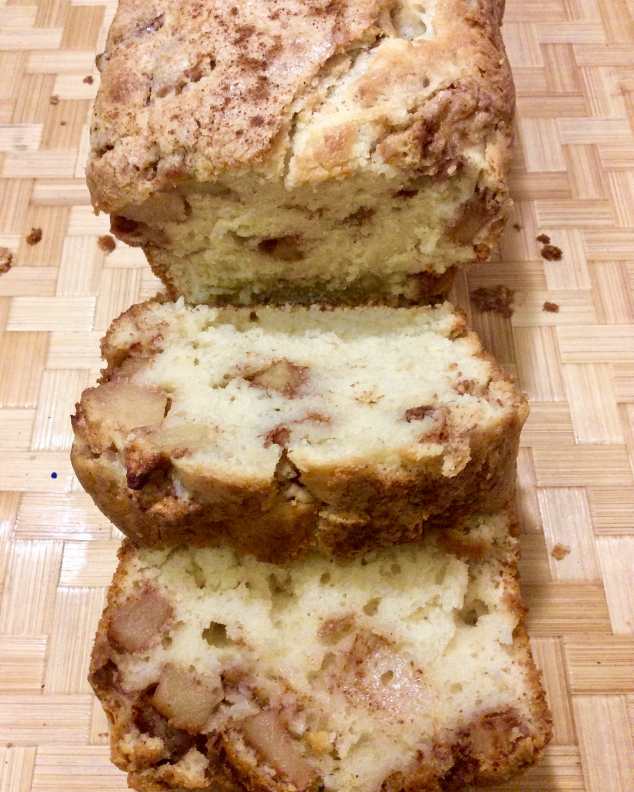 Apple Cinnamon Bread is quick and easy to make from scratch and makes your house smell amazing! Swirled with delicious spiced apples and topped with cinnamon sugar, this quick bread recipe is sure to be a fall favorite
Ingredients:

For the Bread:
*1 1/2 cups all purpose flour
*1 3/4 teaspoon baking powder
*1/2 teaspoon salt
*1/2 teaspoon cinnamon
*1/2 cup unsalted butter  , room temperature
*1/2 cup granulated sugar
*2 large eggs
1 1/2 teaspoon vanilla extract
*1/2 cup milk (120ml)
For the Apple Mixture:
*1 large apple peeled, cut into cubes
*1/4 cup brown sugar
*1 teaspoon cinnamon
*Pinch nutmeg
For the Cinnamon Sugar Topping:
*1 tbsp granulated white sugar
*1/4 teaspoon cinnamon
Directions:
Preheat oven to 150 C and grease a 9×5 inch loaf pan.
In a small bowl whisk the flour, baking powder, salt, and cinnamon together until thoroughly combined. Set aside.
In the bowl of a stand mixer fitted with the paddle attachment or using a hand mixer, cream butter and sugar together until pale and fluffy, about 4 minutes.
Beat in eggs, one at a time, until incorporated. Then add vanilla extract and mix until combined.
With the mixer running on low, add about one-third of the flour mixture and mix until almost combined, then add half the milk and mix until just combined. Repeat with another third of flour mixture and then the last half of the milk, ending with the last third of the flour. Beat until just incorporated. Don't overmix!
In a bowl combine chopped apple, brown sugar, cinnamon, and nutmeg.
Spread half of the batter into the loaf pan, top with half of the apple mixture, followed by the remaining batter and the remaining apple mixture.
Use a knife to swirl through the batter then combine sugar and cinnamon and sprinkle it on top.
Bake for 55 minutes until a skewer inserted in the center comes out clean with only a few moist crumbs attached. Baking times vary so keep an eye on yours.
Remove the bread from the oven and let cool in the pan for 15 minutes before transferring to a wire rack. Allow to cool completely before slicing.
Cover and store leftover bread at room temperature for up to 4 days.