PEYNIRLI / CHEESY BOATS
The name derives from the Turkish word peynirli, meaning 'with cheese'. The best-known places to eat the Best peynirli  in Greece are in the suburb of Drosia, outside Athens and Panorama outside Thessaloniki.
These delicious cheesy boats are a favorite breakfast or tea time treat and we love them. They are easy to make at home; make your kitchen smell heavenly and they are very popular.
Bakeries, street stalls sell freshly baked boats (plain, with white cheese, olives or with potato & cheese filling) in Greece they make a delicious and affordable breakfast or tea time treat.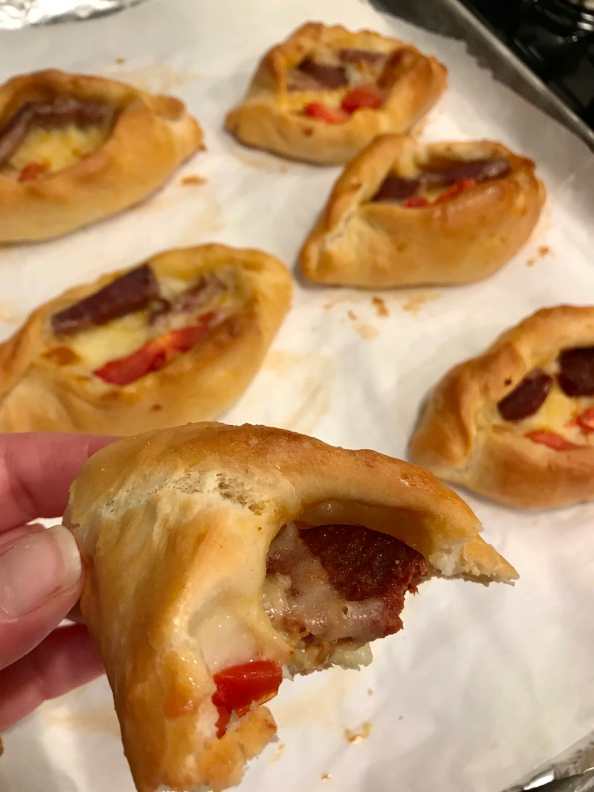 Ingredients:
For dough:
*1 packet active dry yeast
*1 cup lukewarm water
*1 cup lukewarm milk
*pinch of granulated sugar
*500 g hard flour 
*1/2 tsp salt
*3 tbsp Olive oil
For peinirli – pizza boat:
*200 g grated Gruyere cheese
*tomato, sliced
*1 egg beaten + 50g melted butter, for brushing
Directions:
Preheat oven at 180C .
In an electric standing mixer fitted with the hook attachment beat in warm water, yeast, sugar and set aside for a few minutes until the mixture is frothy. Then add the milk and olive oil. Beat in medium speed and add the flour and salt.
Mix for 5-7 min, until we have a pliable dough, fluffy and elastic.
Cover the bowl with a clean towel and leave for about 40 minutes until the dough doubles in size.
Divide the dough into small balls. Roll out, with a rolling pin, each ball to a oval shape.
Spread the grated cheese nicely over each oval shaped dough, dividing it evenly between them and add the pepperoni and tomato slices.
Create peinirli – pizza boat by raising the edges of the dough and folding it inwards to form a border.
Line 2 baking pans with parchment paper and dust with some flour. Transfer peinirli to baking pans.  Brush with the egg and  bake for 15-20 minutes, until golden.  When ready, brush with melted butter and serve.